If you're thinking of putting gravel down in your front garden or driveway, there's a good chance that you're attracted by the idea of low maintenance, ease of installation and economy of materials.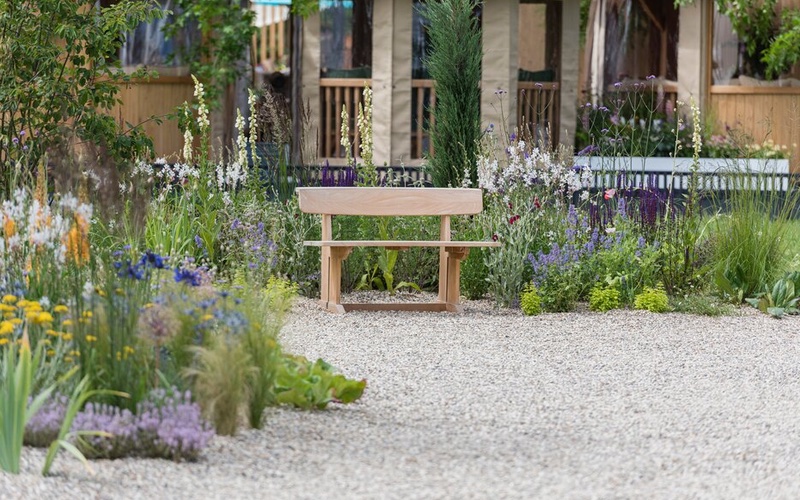 Beth Chatto: The Drought Tolerant Garden. Designed by David Ward. RHS Hampton Court Palace Garden Festival 2019. (Stand no. 200) Copyright © RHS. Credit: RHS/Joanna Kossak. See below why this was the perfect inspiration growing under gravel.
Installed correctly, it's an ideal material for fulfilling all those criteria, but what's less recognised is that it can be used to create unique and attractive garden that will, not only incorporate all the practical necessities of a front garden, but will also welcome you home at the end of the day.
Designing a front garden to be both practical and attractive, and maybe look just a little different, can be a challenge. You need enough space for parking, easy access to the road for bins, a surface that works well in all weathers, that's easy for all types of footwear and wheels to traverse, and that complies with required SUDS regulations, removing the potential need for planning permission. Low maintenance requirements are also usually a priority for this area.
Understandably, the practicalities generally take precedence, even to the extent of the whole frontage being given over to hard landscaping. But there are alternatives.
In this article we'll look at one of the most unusual and one of the most economical to create - the gravel front garden.
A Gravel Garden, not just a Gravel Driveway
Of course, we're all used to gravel driveways - plenty of which give gravel a bad name. Badly installed, they leak stones onto the pavement, grow weeds with enthusiasm and settle into ridges under the car wheels while, in a worst-case scenario, being extremely hard work to walk on.

By contrast, a well-designed and expertly installed gravel garden will be low maintenance, solid underfoot where it needs to be, won't migrate, and will offer a lower-cost option that grows a diversity of planting, therefore giving your house a frontage that has all you need and is welcoming and attractive.
Making Gravel Driveways Work
So, how are the gravel driveway problems listed above solved? By using a stabilisation system in combination with the right type of gravel. Here at Landscaping Solutions, we are registered installers of CEDAdrive, the invisible gravel stabilisation system that creates a surface that is very easy to walk on, even in high heels, and is wheelchair- and pushchair-friendly.
It also solves practical issues relating to SUDS and planning permission.
A Quick Word about SUDS
SUDS - Sustainable Urban Drainage Systems - replicate natural drainage, diverting water away from sewers, with the intention of taking pressure off the sewerage system and reducing surface flooding. The system is a requirement in all front garden developments, with more than five square metres of hard landscaping permitted only where the surface is permeable or there is a permeable area for the water to drain into.
We'll go into SUDS in more depth in a later article. However, gravel front gardens are completely permeable, allowing rainwater to percolate virtually unimpeded into the soil, and therefore fulfil all the criteria with no need for planning permission.
A Gravel Garden by Design
For an idea of how it could look, this year's Hampton Court Palace Garden Festival in Surrey provided a perfect example.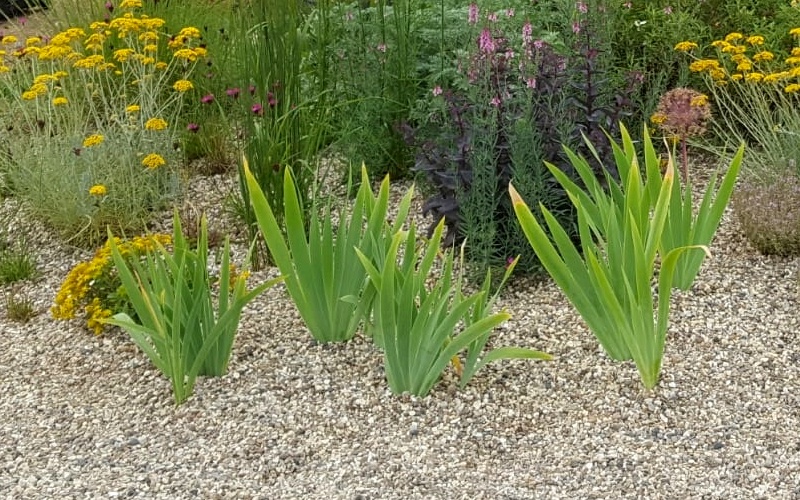 The sword-shaped leaves of irises make a bold statement against gravel in the Beth Chatto Garden at Hampton Court Palace Garden Festival 2019. Picture credit: Ben West.
Beth Chatto, who died in 2018, was one of the most influential gardeners of the twentieth century. In homage, the festival named her its 2019 Horticultural Hero and featured a recreation of her Drought-Tolerant Garden by David Ward, Garden Director of the Beth Chatto Gardens in Elmstead, near Colchester, Essex.
"I loved the Beth Chatto garden," says Landscaping Solutions' director Ben West. "It was mainly naturalistic, colourful, vibrant, with lots of different textures and shapes."
It included a huge number of plants which thrive under gravel and provided a huge variety of plants which make ideal choices for a front garden design. Included in the planting were easy-to-grow herbs like fennel, lavender, thyme, rosemary, oregano, sage and catmint; the edible brassica sea kale; plants like lamb's ears, whose furry leaves beg to be stroked; colourful flowers like red-hot Helianthemums, misty-blue Perovskias, and the sunshine yellow Verbascums, punctuated by the pure white flowers of such plants as perennial stocks. This is just the tip of the iceberg as far as choices are concerned.
They'll even multiply without your intervention. Self-seeding is only a problem when it happens in the wrong place. A huge advantage of installing CEDAdrive is the inbuilt geomembrane that separates the gravel from the soil below, preventing deep-rooting plants taking hold. If other plants show their heads, they just lift away from the 40mm depth of gravel.
A complete gravel front garden
Use of CEDAdrive means that those parts of your front garden that need to be walked on, parked on, and offer a pathway to the main road for the bins offer exactly those capabilities.
With a gravel mulch used across the rest of the front garden, these necessary areas will then blend seamlessly into the whole, creating a sense of air and space unrestricted by driveway edging or strictly delineated flower beds. This in itself will make the front garden feel bigger.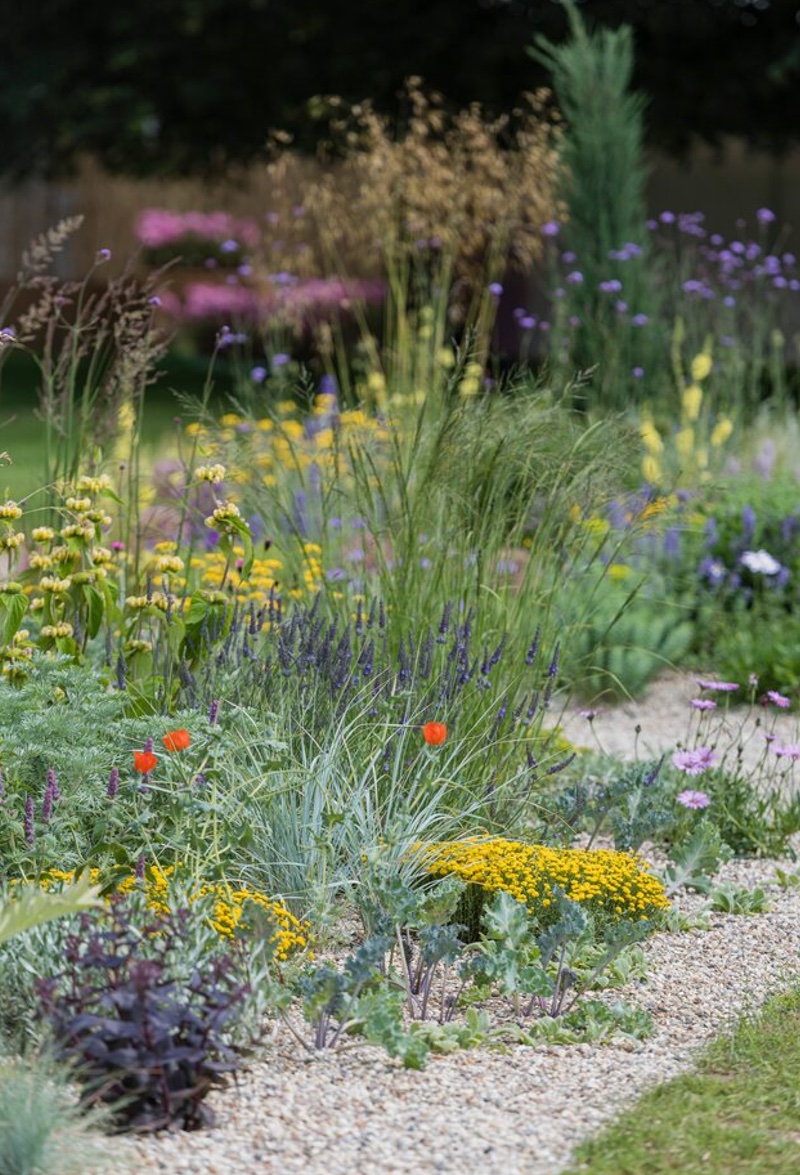 Beth Chatto: The Drought Tolerant Garden. Designed by David Ward. RHS Hampton Court Palace Garden Festival 2019. (Stand no. 200) Copyright © RHS. Credit: RHS/Joanna Kossak.
Ben loves the natural feel of a carefully curated gravel garden like this year's feature garden at Hampton Court. "What I like about the Beth Chatto garden is the informality of the planting," says Ben. "The plants aren't hemmed in with a hard edge; there is no well-defined border. Instead the planted area weaves in and out, with scalloped edges. It makes it more fluid and interesting."
If you'd like to discuss the potential of a well-designed gravel front garden for your property, which will bring pleasure for years to come, contact Ben at Landscaping Solutions on the number above or email info@landscapingsolutionsltd.co.uk.