A properly maintained garden brings new joy in being outdoors, gives new life to your property, and removes the worry at not keeping on top of things.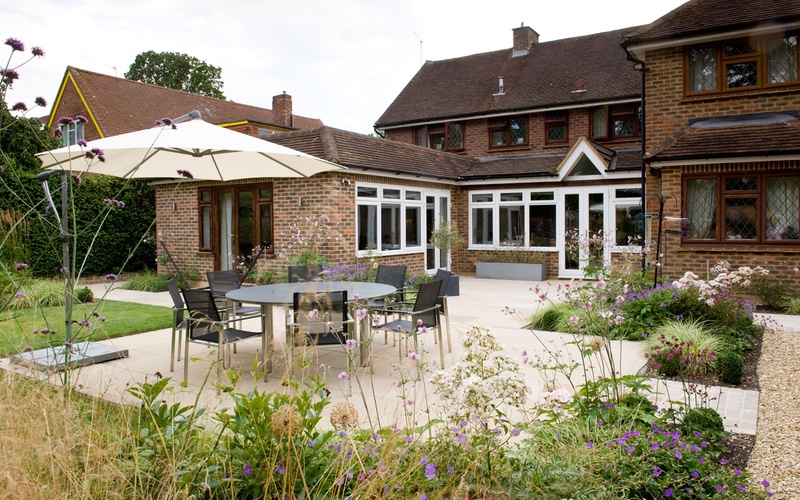 Garden built and maintained by Landscaping Solutions
Finding a garden maintenance company to suit you, though, can create its own headache. Based in Surrey and South West London, we at Landscaping Solutions have come to understand what our clients value most. With this knowledge, we've put together a list of questions for you to ask garden services providers, so that you can more easily find the one that matches your needs.
How experienced are you?
The best garden maintenance, which lets you relax in the knowledge that every aspect of your outside space is being cared for, is not about "mowing and blowing" or just providing weeding services.
Too often home-owners find their shrubs trimmed into an amorphous blob, or an array of identical lollipops. Neat, but hardly allowing the personality of your garden to shine.
It's an approach which often betrays a lack of experience. To bring out the best in a garden requires people who have built up a bank of knowledge and have plenty of experience at the sharp end of garden maintenance.
Extensive knowledge of perennials, shrubs, trees and annuals, an understanding of clever underplanting, layering and seasonal colour ensure that over the year your garden gains in character and interest, becoming the best fit for your lifestyle and how you want to enjoy it.
Garden built and maintained by Landscaping Solutions
Are you based locally?
This might seem an odd question to throw in, but the more engaged a company is in your locality and the longer they've been in operation, the more they've come to understand local conditions - what grows well in one area compared with another, how soil conditions vary, slight differences in weather patterns. Employ a company based at some distance from your location and it could make the wrong sort of difference to the success of your garden maintenance programme.
How can I trust that you're as good as you say you are?
Some people can talk up a storm, but it helps to have proof.
Membership of a professional organisation is an indicator of a company with high standards. There are a number of organisations to look out for; the British Association of Landscape Industries (BALI) is one which only permits members who maintain necessary standards, carries out inspections, and demands members carry public liability insurance.
You can't beat an actual example, though.
So, now is a good time to ask if your prospective garden services company can point you to any gardens locally that they look after.
Can you work the way I want you to?
This is an interesting one, and it's worth thinking about what you want from a garden maintenance company before beginning your search. You are, after all, looking for a long-term relationship with someone who's happy to work with you in the way that suits you.
This might mean that you just want to come home to an attractive garden in good condition where you can entertain and relax without ever having to think about details. You might have planting plans that you'd like to implement but can't do yourself, or want to increase the wildlife-friendly elements of your garden. You might like to be fully involved, with regular updates on work being carried out, and regular discussions about the garden's development and the particular plants we recommend incorporating and features you'd like added.
The response and degree of enthusiasm from a prospective company to an explanation of your preferred methods will help you gauge how suited it is to your way of life.
About Landscaping Solutions' Garden Maintenance Service
Ben West established Landscaping Solutions in 2005, with sixteen years' experience of landscaping and horticulture under his belt. With our staff of experienced landscapers, Landscaping Solutions contains a deep well of knowledge and skills which will breathe new life into your garden.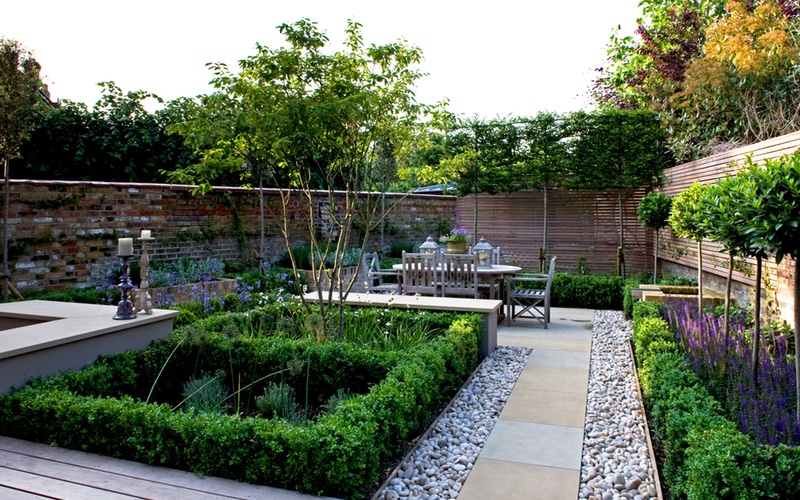 Garden built and maintained by Landscaping Solutions in Barnes, South West London
We are also full members of the British Association of Landscape Industries (BALI) and, in addition to our garden maintenance work, collaborate with leading garden designers to build award-winning garden designs.
Working with you
We're happy to work in the way that suits you best, from having the most general instruction to keep the garden looking good (we'll make sure we know exactly what this means to you first) through to having a regular meeting with you to discuss what you'd like done next.
We take enormous pleasure in working with garden owners to maintain their garden to the highest standard and, if desired, to help develop it. With extensive knowledge of perennials, annuals, shrubs, trees and annuals, we'll plant and prune with an eye to the coming seasons as well making your garden look its best in the immediate present.
We can help you develop your garden over time with your children or grandchildren in mind, adding age-appropriate features as they grow, helping you to connect them to Nature.
Seasonal tasks are not restricted to plants and lawns, unless you want them to be. We will also carry out ongoing garden maintenance on hard landscaping, decking and fences, including repairs and painting.
We're upfront about what we can't do, so if you ever need a large tree cut down, for example, we'll direct you to a qualified tree surgeon.
Working with Nature
With Nature much in the spotlight these days, and climate change, pesticides, diminishing insect populations and habitat destruction frequently in the news, it's reassuring to know that small differences can make a difference. At Landscaping Solutions we have the knowledge to help you make your garden as Nature-Friendly as possible while suiting your lifestyle and garden layout.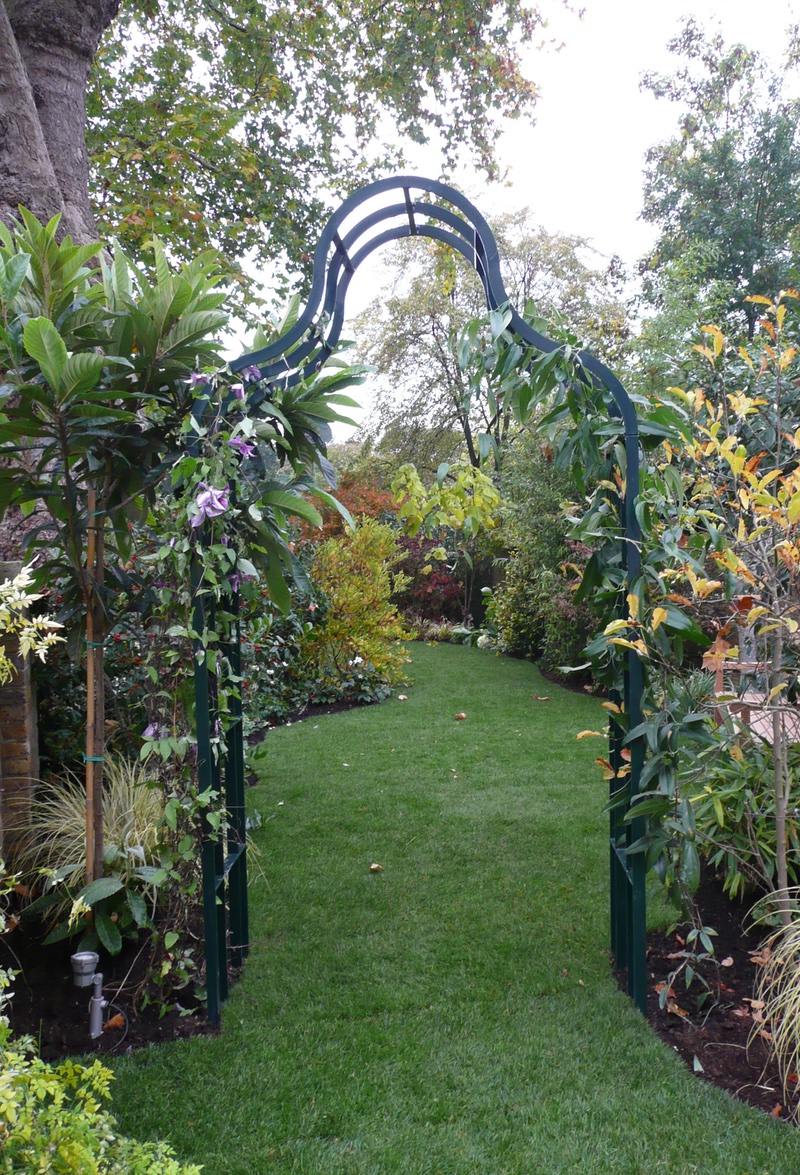 Garden built and maintained by Landscaping Solutions
What Landscaping Solutions offers
What we offer is a custom garden maintenance service, tailored to your garden, your pocket and the way you want us to work. We seek to enjoy a good long-term relationship every bit as much as you want to find someone you're happy with for a long time to come.
All we ask is that you have a garden with enough work to occupy at least one gardener for one full day. That could be a medium-sized but intensively planted garden with several features, or a large, simple spread with lots of ground to cover. We're happy to come and advise.
Where to find us
Landscaping Solutions offers garden services in Surrey and South West London, particularly the TW, SW, GU and KT postcodes. Our radius includes Molesey, Esher, East Horsley, Cobham, Weybridge, Kingswood, Kingston and Richmond.
For more information and an informal chat about our garden maintenance service, contact Ben West on 0208 241 2402, or email info@landscapingsolutionsltd.co.uk to ask us to give you a call.