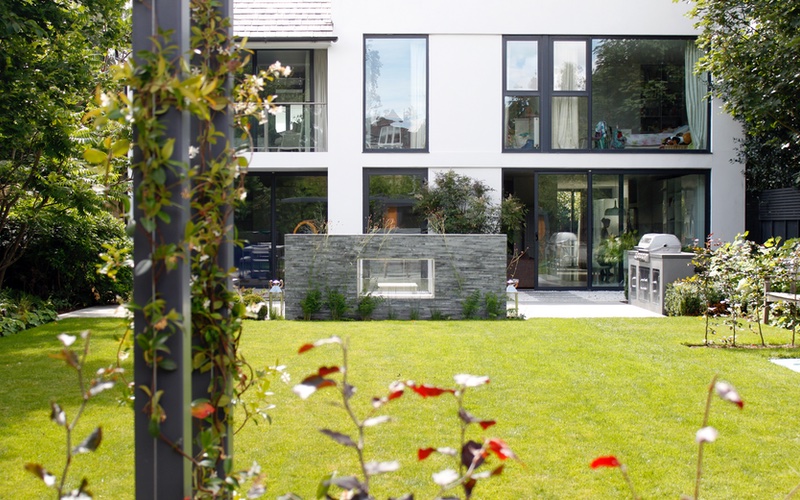 The design by Cassandra Crouch meant that the garden and house felt right together.
At Landscaping Solutions we work with some of the leading garden designers in the UK. We regard our role as providing a safe pair of hands when it comes to delivering the design, taking worry off the shoulders of both garden designer and householder. This is exactly what we did for Cassandra Crouch with this beautiful space on the edge of Richmond Park, South West London.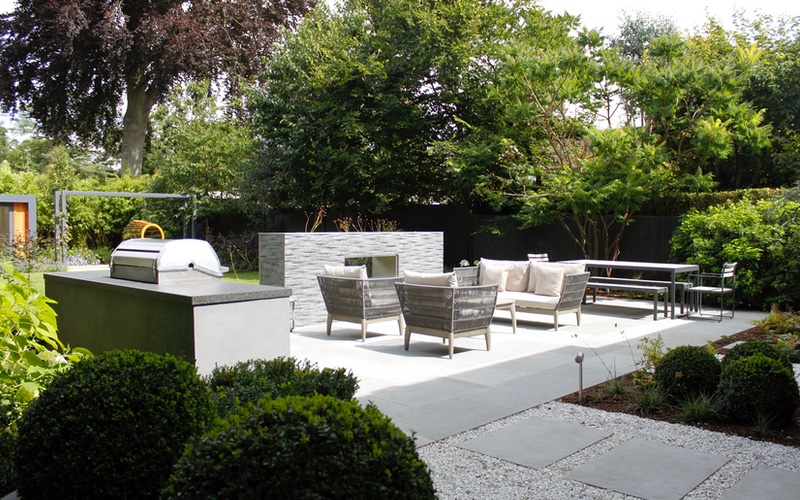 BALI award-winning garden, in South West London, designed by Cassandra Crouch.
Typical of family gardens, this one had a wide-ranging brief. It needed areas for:
adult exercise and children's play
entertaining and outdoor cooking, during the day and after dark
for rest and relaxation
for storage
And while the clients were not particularly keen on gardening, they did want a variety of heights and textures in the planting to create year-round interest.
The house has a rectilinear, minimalist feel, and Cassandra's design gives it a strong sense of place with the use and overlap of strong squares and rectangles in the design - even the trampoline is square. Cassandra's Crouch's design marries the garden to the building, creating a relaxing space that feels right at home.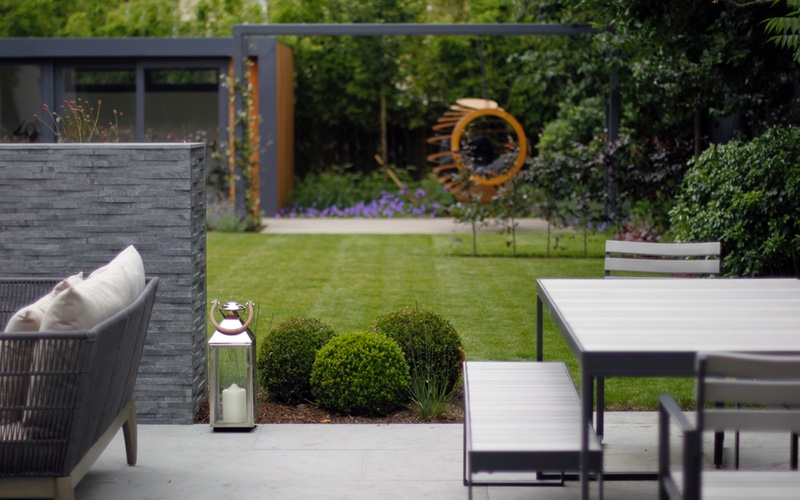 Beams made by Leighton Ironcraft support a hanging seat that offers a contrasting shape to the lines and rectangles.
Generous beams support the hanging seat; grassed and paved areas have straight edges and ninety-degree angles on their corners; the fireplace feature and barbecue are strongly rectangular.
A design like this needs a highly accurate finish - imperfections in angles and straight lines are immediately visible. At the same time, the variety of materials requires skill and experience to integrate them seamlessly, as well as very careful attention to detail to ensure that levels match and surfaces move smoothly from one texture to another.
We pride ourselves at Landscaping Solutions on creating a luxury finish. "They are passionate about construction," says Cassandra, "and strive to achieve very high standards."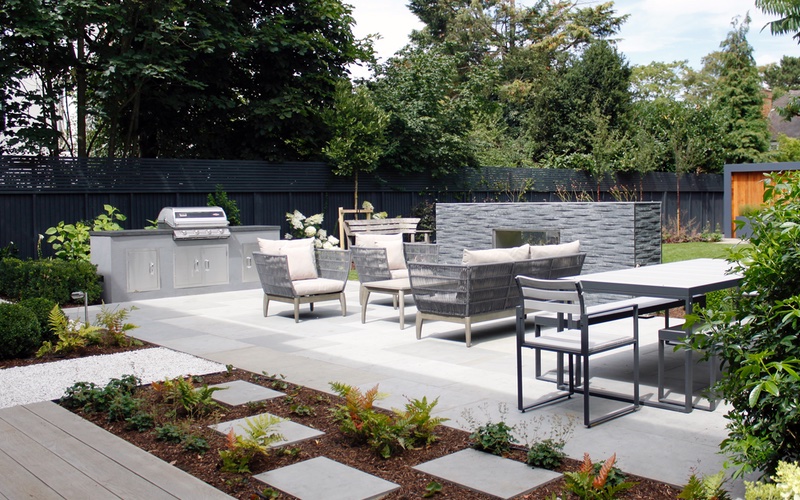 Sawn Grey Yorkstone and Smoked Oak Millboard combine textures in this garden designed by Cassandra Crouch in South West London.
High-quality materials completed the sense of luxury. The patio uses Sawn Grey Yorkstone (supplied by London Stone) which tones beautifully with Millboard's Enhanced Grain Smoked Oak composite decking, laid at the access to the house and around the gym/studio, while adding contrasting texture.
This was a garden design that required a wide range of landscaping skills. As well as laying different materials and recycling existing paving to allow access to a storage area hidden behind the gym, we installed textured tile cladding and stainless steel beading to the fireplace, put in the barbecue and then rendered and painted its housing to tone with the overall colour scheme. Light-coloured aggregate around paving stones was retained in a stabilising system to prevent gravel migrating to beds and paving and to make a stable surface to walk on.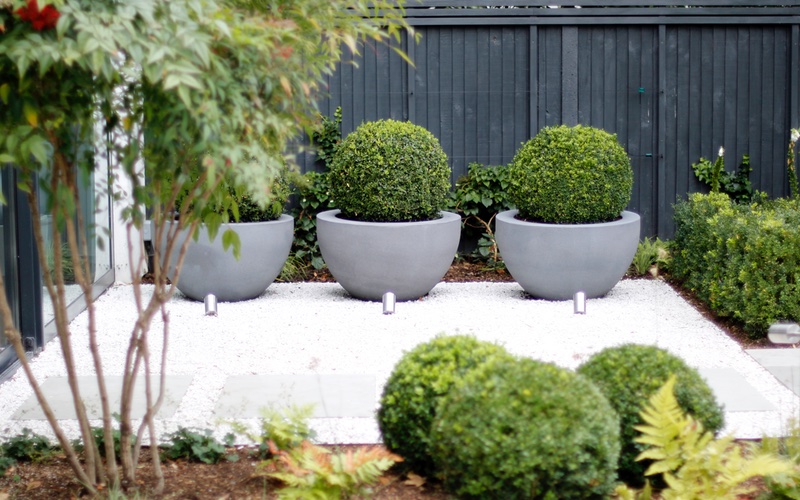 Round box balls, uplit at night, add contrasting shape and texture in a garden which the owners wanted to be easy to look after.
Lighting, which picks out shape and texture at night and focuses on the barbecue and seating area for extended evening use, was installed by Electrosafe Landscape Lighting Ltd, overseen by us at Landscaping Solutions. The drip-irrigation system, which we installed, will reduce work in the garden and ensure the survival of plants while the home-owner is on holiday.
Badgers!
So far, so normal for our teams at Landscaping Solutions. However, this build introduced an interesting additional element - badgers in a neighbouring garden.
Badgers are protected by law, as are their setts, and if works needs to be done in their vicinity, a licence is required from Natural England.
Landscaping Solutions happily shouldered the responsibility of ensuring everything was done as it should be. Natural England required the installation of night cameras to monitor sett entrances for two weeks. With no badger activity recorded, work could progress.
"I was really pleased to have had the challenge," says Landscaping Solutions' Ben West. "It means we learned best practice for the situation and allowed me to get up close and personal with one of my favourite British mammals. I've been badger-watching since I was a young lad so it was second nature for me to want to do the best by the badgers."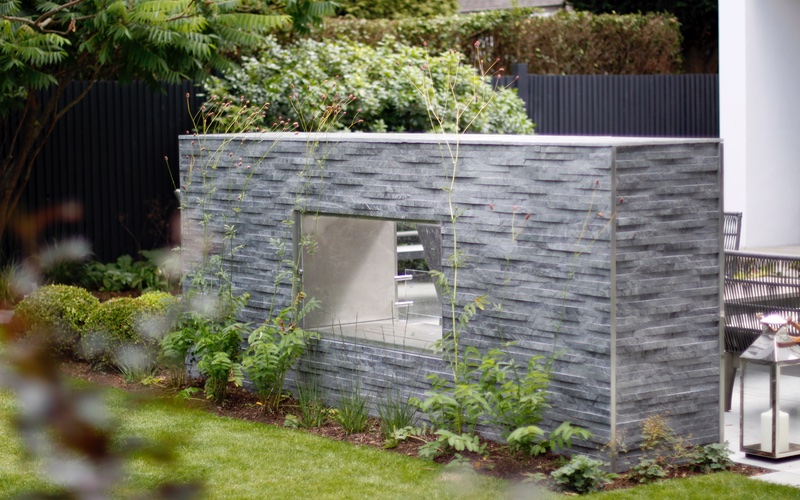 Textured tiles clad the outdoor fireplace with stainless steel beading to finish the edges.
In the meantime we shifted our schedule to make progress in other areas of the garden, away from the badger area. Good communication with garden designer Cassandra Crouch and the homeowners meant we could be flexible in our approach and work out an efficient reorganisation of the sequence of jobs required.
We completed the build in a couple of months, in June 2016. It went on to win us our fourth BALI award, and our second Principal Award, this time in the category of Domestic Garden Construction (£60K-£100K).
"The team are professional and pleasant to work with," said Cassandra. "Both the client and myself are extremely happy with the result. I would not hesitate to recommend them to clients in the future."
See our other award-winning gardens.
Contact Ben West to find out how we can help you create a luxury garden to the highest standards for your clients. If you're a home-owner looking to enhance your living space, we can refer you to talented garden designers. Just get in touch to discuss.