The importance of integrating Nature into our everyday lives is something that is really close to our hearts at Landscaping Solutions so we were delighted to be involved with a garden with such an important message at RHS Hampton Court Palace Garden Festival this year.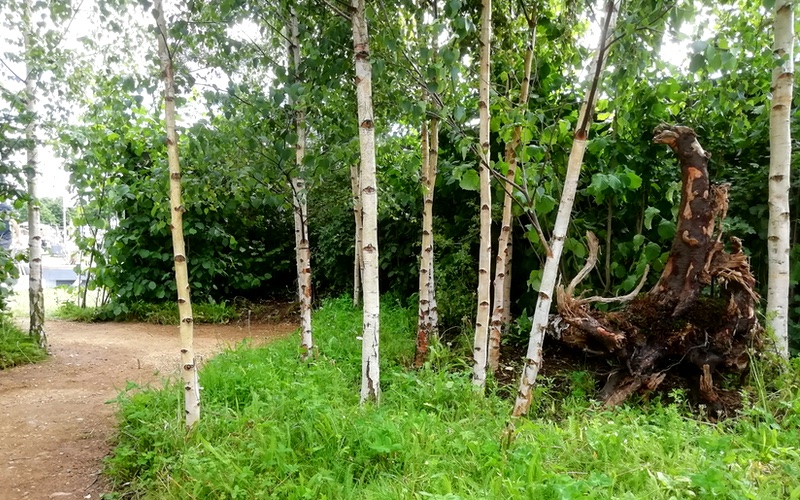 The CEDEC self-binding gravel was mixed with local mud to create the forest path. Photo: Helen Gazeley.
Michelle Brandon, designer of the Forest Will See You Now, one of the gardens in the Global Impact category, also works as a horticultural therapist at Springfield University Hospital, Tooting, so she knows first-hand what huge benefits working with Nature and being in Nature can bring.
The Forest Will See You Now adds another dimension. Contained within a "wrapping" of a packet of pills, it sends the message that Nature herself provides medicine. "In my research," says Michelle, "I stumbled across phytoncides and started looking into them." These volatile substances are produced by plants to prevent rotting and attack from pests; it turns out that they're also good for humans.
Stuart Dainton, Head of Innovation at The Woodland Trust, explains, "They're helpful for the immune system and reduce stress. It's now been proven by science."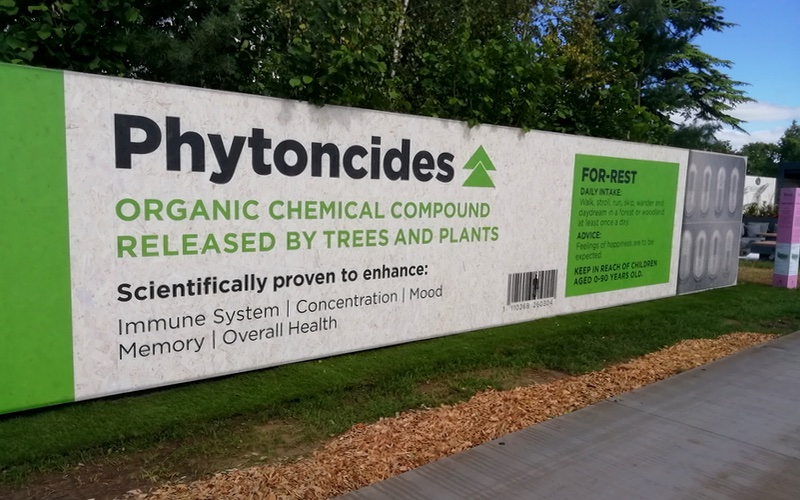 Garden designer Michelle Brandon wrapped The Forest Will See You Now in a pill packet to emphasise the message. Photo: Helen Gazeley.
For Landscaping Solutions, the garden was one of the simpler show gardens we've been involved with. Michelle had an army of friends, family and RHS volunteers to help and we came in for the elements that needed more landscaping knowledge. As ever it's the attention to detail that creates the difference between a believable scene and one that doesn't work its magic.
"I wanted to make a woodland that recognisable to all," says Michelle, who created a shady forest path between, among other trees, silver birch bordered by natural planting, including shade-loving meadow grass. "I hope it will encourage people to want to go to woodland in their own locality and take ownership and protect it."
"If we understand the benefits of woodland," said Stuart, "then we will protect it."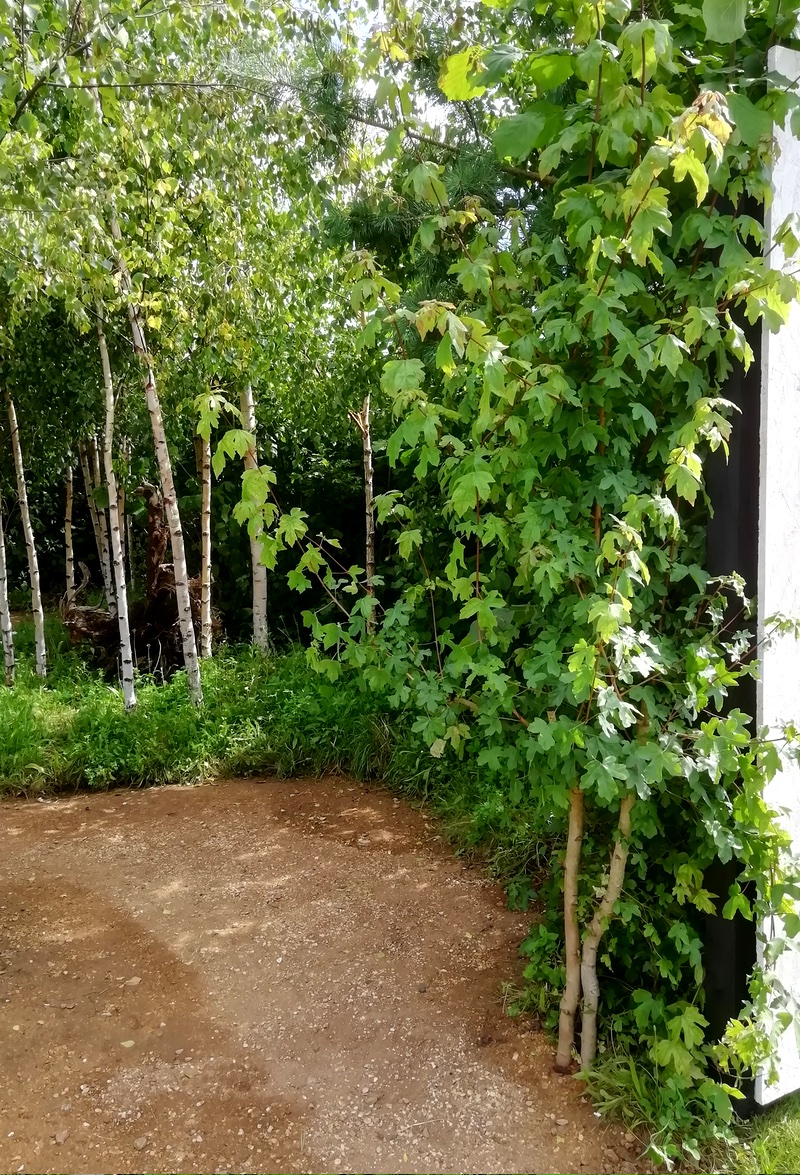 The Forest Will See You Now makes an inviting space where Hampton Court Palace Garden Festival visitors can escape from the sun. Photo: Helen Gazeley.
Playing an important part in the realistic scene is the path which, as visitors to Hampton Court are encouraged to walk through the gardens, has to be up to heavy footfall while prepared for any weather. It's a careful combination of CEDEC self-binding gravel and local mud, mixed with a few stones to create just the right impression.
The garden towers above its surroundings, and there were nine taller trees that had to be firmly fixed in place. "The initial dig out was very strenuous," says James, who led the Landscaping Solutions team working on the garden. "Once you're down thirty centimetres, the ground is very stony, like ballast. When you stick in the shovel you're not hitting, nice soft soil."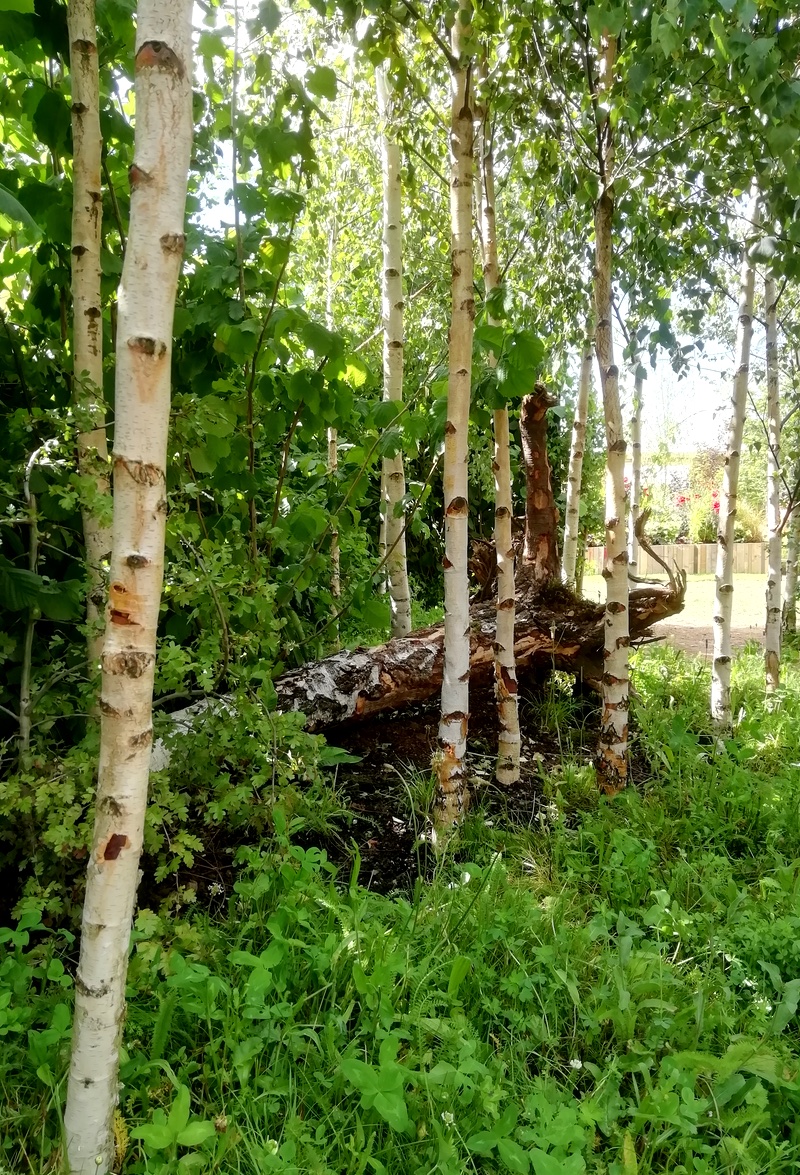 A fallen, decaying tree displays its roots, and invites contemplation of the beauty of Nature in The Forest Will See You Now. Photo: Helen Gazeley.
The solution was a digger. We also employed the Platipus Deadman Fixing System, which requires digging down below the depth of the rootball. "We didn't see other people using it," says James, "but it's a professional approach." The Platipus Deadman is useful for anchoring tall trees, making them safe in windy sites and ensuring they stay upright and creating an aesthetically pleasing finish without the need for staking. In all, nine trees were installed with the anchor system.
This is a garden very different from our previous Hampton Court builds, but no less enjoyable for it. "It's good fun," says James. "Tough, with a lot of planning prior, but good fun. And it's just nice to have your work on display."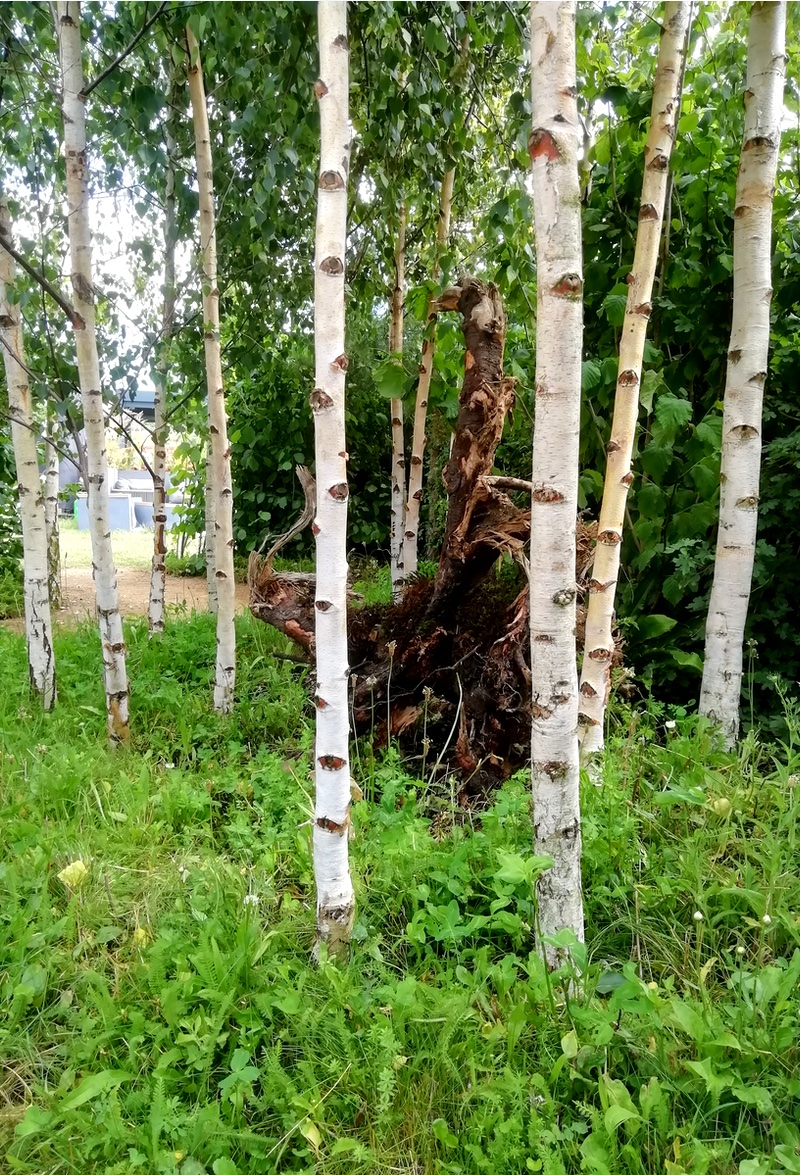 The Forest Will See You Now at RHS Hampton Court Garden Festival is designer Michelle Brandon's first show garden. Photo: Helen Gazeley.
Designers often say that after a show they declare "never again", even though they're lured into the process again the following year. This was Michelle's first ever show garden, and she's made of sterner stuff. "It's hard core," she says. "A very, very intense experience, but when in the first year you've learned so much, with all that knowledge you're already signed up for the next one."
We couldn't agree more. If you'd like the garden that's perfect for you or, as a designer, would like to discuss how we can work with you on an entry in next year's shows, contact Ben West to discuss your requirements.